BISQUE (2) Cleaning tiles to use.
ca: BESCUIT (2) Preparació rajoles per utilitzar.
es: BIZCOCHO (2) Preparación de azulejos para utilizar.
Bisque is the name given to all types of clay bodies that have been fired but are porous and unglazed. Always test ware to make sure it is not damaged or broken. Holding it with one hand, tap it in several places with the knuckle of the first finger of your other hand. If the resulting sound has a high tone, this means that the tile is not broken. If the sound is flat, this means that the tile is cracked. Work can be tested in the same way if it is bisque, bisque prepared with an unfired glaze, or with a fired glaze.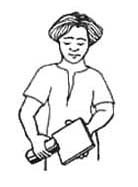 Cleaning: before applying the glaze-base to bisque it must be sandpapered, cleaned by brushing.
If you are decorating hand-made bisque objects made from red clay, dampen them before applying the glaze-base. I always do this but it is not absolutely necessary; it helps eliminate air holes and makes the base run on more cleanly and smoothly. Quickly dip the bisque into clean water, so every part gets covered, take it out and let it sit for a short while before applying the glaze-base. Only wet handmade objects made in red clay, not white or industrially-made clays.
STAGES OF WORKING FOR ALL BISQUE
a) Sound-test work for breakages.
b) Sandpaper and even out any rough surfaces.
c) Clean it by brushing it, inside and out, back, sides and edges.
The next section; Bisque (3) Sounding tiles
Read more about: Glaze-base (c) Preparing the glaze-base