ABOUT HOW THE CERAMIC DICTIONARY STARTED.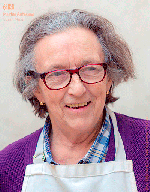 HALLO, I AM SUSAN I studied drawing and painting in England, married a Catalan doctor, I have two sons, four grandchildren and live and work in Barcelona where I have a studio-shop and decorate tiles by hand using the Majolica Method.
We are redoing our web, it is in English, Catalan and Spanish it is nearly finished it is still missing small parts but you can see all our designs and get in touch with us. We have 230 tile designs, the smallest is 1 tile and biggest is 72.
This is our web: www.ceramicsbensu.es/en
We also make PRIVATE ORDERS; we can put what you want on to tiles, names, numbers and pictures.
This is the section in our Web: www.ceramicsbensu.es/en contact
HOW I STARTED MY BUSINESS AND THE DICTIONARY:
I opened a ceramic shop at the Costa Brava and I realized there was a large demand for names of houses, numbers and picture on tiles.
A client wanted a large design on tiles for the front of his restaurant, 45 cm high and 6 meters long and painted with the Majolica Method. This is how I met Benito Arroyo who helped me with it.. He had worked all his life in ceramics using this method, and when he retired we started a business together.
This is a link to the first part of the dictionary on how to work with the Majolica Method; all the sections are joined according to the order of working. Here is the first: Bisque-1-clay-after-first-firing.
Benito was a talking encyclopedia on ceramics and I took notes by hand on everything. Then the great change came, I got my first computer and all the information went into it in an alphabetical order.
I wrote a book on how to work with the Majolica Method, it was in English and in two sections; the first one explained how to work and the second was a glossary on different subjects and the tools used. I could not find a publisher so I put it into my web and this was the first stage of the dictionary.
As I live in Barcelona I put it in Spanish and Catalan, removed it from my web and started my Ceramic Dictionary, which has become an encyclopedia as it explains methods of working, has as many illustrations as possible as they are an international language.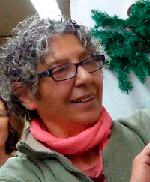 The great improvement came when Núria Pié started to help me, she corrected my Spanish and Catalan and together we added many missing subjects. I have taken many photos in her studio where she works and gives classes.
Here is her web: nuriapie.com.
The section "Alta-Phone" of her web shows a new, elegant, popular product she has designed and made. It is to hold a mobile telephone and it amplifies the sound of the music and radio. It is a ceramic product, with the same basic shape, made in different sizes and decorated with different patterns,. In her web she has a video showing how she formed it by hand on the wheel.
Here are two sections from the dictionary that were made in her studio: Coiling (4) With a slab roller and Cylinders-throwing in pottery
In the section on Cylinders-throwing all the photos have been taken out of a video I made on her working. It is the best method to make photos when there is a lot of movement as it records every second and you can select the best.
I am rewriting my book and it will be published this year 2015. If you are interested, send me an email saying "Interest in you book on the Majolica Method" and when it's published I will send you all the information on it.
HOW TO HELP WITH THE DICTIONARY:
Remember; a dictionary is never finished, there is always something to be added. or corrected. If you see any mistakes or realize something is missing, please send an email and tell us. This is our email info@ceramicdictionary.com and to send one directly go to CONTACT
IF YOU WANT TO WRITE ABOUT YOUR SPECIALTY IN THE FOLLOWING SECTION WE EXPLAIN WHAT WE NEED AND HOW TO PREPARE AN ARTICLE.
The following is a list of some of the sections that need to be improved; The first two are not even in the dictionary and the last four are missing good explanations and photos. What is red is a link to their section in the dictionary so you can see what is needed straightway.
1) Direct printing – Screen printing onto glazed or tiles bisque fired.
2) Indirect printing – For cylindrical pottery.
3) Spray glazing –Pictures on to tiles. Spraying-Glaze
4) Lustre – The whole process. Lustre and Luster-clorors
5) Jolleying. Jiggering and Jollying
6) Wax Resist Wax-resist
If you want to write for our Dictionary on a method or process of working or how to use a tool or instrument, please get in touch with us to discuss what you want to add or improve.
Susan and Núria