COLORS - Storing in pottery.
ca: COLORS - Emmagatzematge en ceràmica.
es: COLORES - Almacenamiento en cerámica.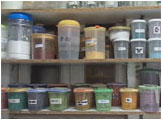 Colors storing: they must be kept clean as dust and dirt in them can spoil your work. Keep the different states of preparing colors in different types of pots to help make them easily recognizable. Make sure the pots are the right size in relation to what you buy or use
1) Keep the colors that are in powder form in well closed jars.
2) Have a medium sized, well closed jar for prepared colors.
3) For working, keep colors in small jars and if one can be mistaken for another, name it.