MOLD: 1 Press molds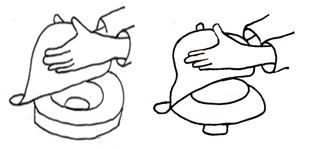 PRESS MOLD: is a concave space in the form of a plate and the clay is pressed into it.
HUMP MOLD: is a shape formed outwards and the clay is laid over it. They are usually made with a handle, to make separating it from the clay easier.
Remember: Remove it as soon as possible from the mold as the clay will shrink and it will break.
General rules on using the above molds:
a) Knead the clay well so it has a smooth, even consistency and has no air bubbles
b) On a cloth roll out the clay to the height, width and length needed to cover the mold completely.
c) Put the mold as near as possible to the clay.
d) Pick up the clay with the cloth, holding it flat between both hands and lay it over or into the mold, remove the cloth. The cloth helps to stop the clay deforming while being moved. Do not hold the clay between your fingers as it will stretch under its own weight and become narrower in parts and your fingers will also leave indents.
e) Smooth and press it with a rubber kidney so it takes the shape of the mold.
f) Cut off the edges using a very tautly held cutting wire, then smooth them out and leave it to dry.
g) Separate the clay from the mold when it is leather dry. Turn it the right way up, tidy it and leave to dry out completely, it can now be decorated or fired.