ROULETTE WHEEL - ROLLER TOOLS
ca: SEGELL CILÍNDRIC
es: SELLO CILÍNDRICO

Roulette Wheels – Roller Tools – They are known by these two names in English.
Handmade. It is a cube of wood or bisque made with a pattern notched into it. It can be of any size and be attached to a handle. When rolled over soft clay, the protruding parts are indented into the clay to create a pattern or texture. If you make a roulette wheel using clay, after creating the pattern, leave it to dry. When dry it can be used, but if it is to be used frequently fire it, as the dampness of the clay you will be working on will affect it. If a handle is required, build up the clay round a tube length-wise, so it goes through the middle. It should be big enough to pass a small pole of wood or metal through, which can then be attached to a handle. This makes it easier to roll and imprint. A good idea is to make a detachable handle, which can be used with all your designs.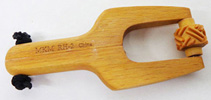 Industrially made. They many different types of roller tools, in shapes, sizes and the materials they are made of. The ones in the following photos are made with hard wood that has been prepared to be durable against dampness. It is in two parts the handle and roller, the rollers are made with different sizes in length, diameter and designs to use with the same handle, the smallest 0.5 cm and the largest is 6,0.cm and each size has a large selection of different stamp designs. The following photos show how to use them.
Go to Impressing and enlarge the first photo. It shows some that are completely handmade and very practical, designed with one piece of thin metal that is bent. At the top it has a ring to hang it up, in the middle a space to hold it while working and with a roulette wheel hooked at the bottom end.
Read more about: Impressing / Impressing stamp
Click to see a very good web Pottery Tools