SPOON
ca: CULLERA
es: CUCHARA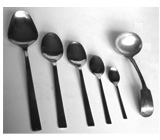 Spoon is a utensil consisting of a small, shallow bowl at the end of a handle, used for serving solid food and eating liquid or semi-liquid food. They are also used to measure and mix ingredients.
They are made in many different sizes for many different purposes.
From left to right;
Serving spoon, Desert spoon, Soup spoon, Teaspoon, Coffee spoon, Gravy spoon.