FILING (5) Pottery tile designs.
ca: ARXIVANT (5) ceràmics dibuixos de rajoles
es: ARCHIVANDO (5) cerámica diseños de azulejos.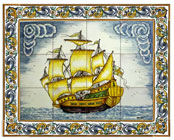 Filing Take a photo of every new design, once painted and fired. Keep it in your computer with all the necessary information, code number, sizes, method, colors, year, client, etc, so if needed they can be found quickly.
Designs drawn and pounced on tracing paper have been cut into pieces of six tiles as this is easier for marking on and filing. They are clipped together with a photo, in color of the design, fired and finished with its code number and size.
FILLING TILES WITH SEPARATE BORDERS
Coding boat: B.1= 12T, 45 × 60, Bo Nº8.
Coding translated: B.1= Boat-1, 12T = 12 Tiles, 45 × 60cm = size. Bo Nº8 = Border Nº8
Note: The first numbers are always the vertical side of the design
FILLING TILES WITH BORDER
Coding flowers: FL2=9T, 45×45, WB.
Coding translated: FL2 = Flowers Nº2, 9T = 9 Tiles 435×45 cm = size, WB = with border.


The next section; File – Filling (6) tile screen printing