CARDS – Shapes for clay
ca: PLANTILLAS - Formes per a l'argila
es: PLANTILLAS - Formas para la arcilla
Card shape; is a piece of cardboard or thin wood cut with a profile of the inside or outside of an object. When being used with damp clay, it should be well varnished to stop it from warping. It is used when throwing, to check that the shape is the same all the way round, that repeated pieces are the same and that two separate parts fit together.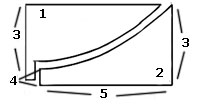 1 The shape of the plate inside.
2 The shape of the plate outside.
3 Height of the plate.
4 Height of the foot.
5 Width from foot to edge.
The illustration shows two cards with the profile of a plate, the inside and outside. It is good to code the cards and to file with a photo, all the information, measurement, date, type of clay, etc.
This type of card is also known as a template and in the following sections more is explained.
Read more about: Jiggering and Jollying / Borders (2) In relief / Template