CRANKS - Kiln furniture.
ca: CASELLES - Accessoris del forn.
es: CASILLAS - Accesorios del horno,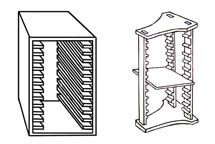 Crank is a support for plates, tiles etc., inside the kiln. They are made in many shapes and sizes and have walls, with arms, pins or shelves to support the objects one on top of the other, separately without touching. The one on the left is in one piece and can be bought for tiles 10×10cm, 15×15cm and 20×20cm.
Read more about: Packing (c) Decorated work / Packing (d) Process / Kiln – Furniture