LETTER: Decorating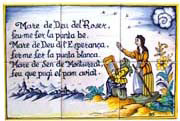 Lettering is to decorate letters on to pottery; they can be formed in clay, slip and with in-glazes or on-glazes. There are different styles of letters and different methods of decorating.
This section has photos with lettering done using the Majolica method to show some of the many possibilities and styles there are. The tiles are prepared with a white, crude glaze-base and the designs have been prepared, drawn onto transparent paper, pounced and marked on with vegetable ash.
Note: The descriptions of the illustrations go from left to right.
Classical letters, without profile: the photo on the left shows a poem in Catalan, which has several words incorrectly spelt; we keep it to show clients how nice letters can be. They are painted with one color, accentuating the characteristics of the letters, which change from a thick to a thin line. Tiles 15 × 15 cm. total size 30 × 45 cm
Sala de Cata: classical letters, without profile and on the right of each one the outer line is repeated and the space it forms is covered by a light coat of the same color, this gives it a three dimensional affect. The tiles say "Room for Food." The tiles are 15 × 20 cm and are used horizontally, it measures 15 × 120 cm. in total and the border is part of the tile.
El Asturiano: the figure is in the local dress and pouring cider, which their local custom and drink. The letters are painted in dark blue and classical but arranged to fit in to the 3 tiles vertically
Terracuita: is the name of a ceramic shop in Barcelona. The tiles 20×20cm and had to be cut to fit into the architectural setting. The name is done in the Dry-Cord method with dark blue, the tile on the right is a copy of an antique design and the word "ceràmiques" and the letter T are painted directly on to the opaque glaze-base with the color ochre.
Three designs all with very different letters: the first has strong gothic letters in dark brown, the next is Modernistic in dark blue and the last is a clients' design, where the cat and the letters are in black and the number in ochre.
Three tiles of 20 × 20 cm: in the first and the last the letters are painted in dark brown and in the middle one the outline and the bottom part of the letters are painted in dark brown with the top part in ochre and the letters shaded on the right with an off cream color.