MAJOLICA: 4a - Layout of one tile designs.
ca: MAJÒLICA: 4a - Dissenys d'una rajola
es: MAYÓLICA: 4a - Diseños de un azulejo
This and the following seven sections show different ways of working with this method.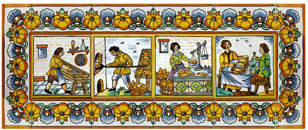 You can make tile designs in two ways; put tiles together to form one picture or design each tile with a complete illustration. With both methons you can mix subjects and make up pictures to the size and shape you want. There are three different sizes in tiles 15×15, 20×15 and 20×20cm.
THE PHOTOS SHOW THE LAYOUT OF ONE TILE DESIGNS
The next section; MAJOLICA: 4b – Glaze textures and accentuated outlines.