MOLDING - A fish - Stage (1) in pottery.
ca: MODELAT - El peix - Etapa (1) en ceràmica.
es: MODELADO - El pez - Etapa (1) en cerámica.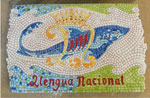 The Fish was made by Jordi Salvador as the award for the winner of the Premi Llengua Nacional in Catalonia. It is based on a mosaic design by Gaudí that is part of a bench in the house Torre Bellesguard – Casa Figueras, which is shown in photo a).
The basic method for making a one piece shape in clay to cast is simple, but as the design of this one has a lot of small, delicate details it needs time and great care. The clay is shaped as needed and the photocopy of the design is laid on top and with a pencil the outlines are indented. Then with a very fine tool they are dug out and a mosaic texture is given to the areas within the outlines by indenting them with small squares. The movement of the tool is very important as it accentuates the form of the design; this can be seen in the waves and the whiteness of the background. You must keep brushing off the small bits of clay which have been scraped out and smooth off the edges with a brush and clean water.
He has been using this method to form miniature reproductions of the large mosaic works of Gaudi. In the photo e), you can see his hand working on the piece, showing how small it is and how precise it has to be.
Photos taken in the workshop of Sot: www.ceramicasot.com
This subject has three section: Casting – A fish (2) in pottery and Decorating – A fish (3) en pottery.